Access our broker rating tool – immediately and responsively.
Coastal National Footprint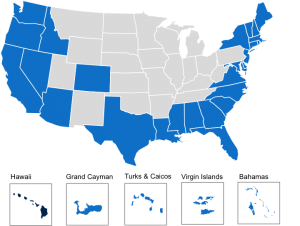 ME – VA Submissions |  NC- CA Submissions
Brokers' First Choice
Coastal Agents Alliance is a leading specialty underwriter of catastrophe exposed property insurance and was founded by Timothy J. Byrne, Sr., a third generation broker from Southern New Jersey.
Frustrated with the wholesale market for coastal homeowners, Tim was determined to find a better way of doing business and in 2004, Coastal Agents Alliance. was formed.
Join Our Team
The Coastal Difference
Our Coastal Homeowner program is a unique product designed to offer a valuable combination of coverages to protect your home and your personal possessions.
About the Company
Coastal Agents Alliance:  Competent and Experienced
A subsidiary of Orchid Underwriters, LLC, Coastal Agents Alliance has your home, condo or your valuable articles, we have you covered! Available in Connecticut, Delaware, Maryland, Massachusetts, New Jersey, New York, Rhode Island and Virginia. In this crowded market place of insurance carriers we provide products and services tailored to meet the ever changing needs of our customers.  We build value and strength through our customers' satisfaction and by consistently producing superior operating results. Profitable growth through superior customer service, innovation, quality and commitment is our goal.
+ We are not a wholesaler- we are a program manager with appointed brokers.
+ We offer a quality product with a Am Best Rate company.
+ We offer the same commission for both new and renewal business.
+ We underwrite, we make exceptions and we accommodate our brokers.
+ We are easy to do business with and are here to serve you!
+Our goal is to establish a relationship with you.
On April 14, 2005, I sold my first Coastal Agents Alliance policy and have never looked back.  I take great pride in the product I offer, the service I provide to the broker community, and the strength of my staff.  The future holds so much for all of us.  I am sure that each year will be better than the last and we will continue to bring innovation that will improve the level of service that you have come to expect from Coastal Agents Alliance, LLC.Timothy J. Byrne
Vero Beach, FL, May 19, 2015 — Orchid Underwriters Insurance Agency, LLC ("Orchid"), a leading …

FOR IMMEDIATE RELEASE Orchid Underwriters ACQUIRES Coastal Agents Alliance  Backed by Gryphon Investors, Orchid and …

Vero Beach, FL, April 27, 2015 — Orchid Underwriters Insurance Agency, LLC ("Orchid"), a leading …

Now offering primary & excess flood coverage through proprietary market Orchid has alternatives to the …

OFFERING EXCLUSIVE HIGHER VALUE PROGRAMS A Rated by A.M. Best HO-3 and HO-5 Forms available …

Orchid Update:  As part of the investment in Orchid by Gryphon, Orchid's corporate structure is …